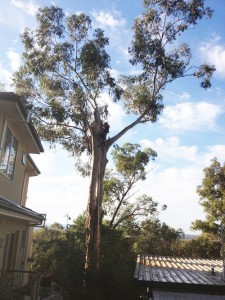 Before deciding if a tree should be removed there are several factors one should consider. "Does the tree need to be removed?" "Is the tree an asset or a liability?" Our staff can assess your tree and inform you if there are options other than tree removal. A tree which is currently a liability can often, with correct management, become a long-lived asset to your property.
In cases when this cannot be achieved GVP Arbor's qualified experts can safely remove your tree.
Options available include:
Full tree removal
Partial removal leaving trunks for habitat
Confined space tree removal
Often sites do not present easy access for doing tree repair or removal work. GVP Arbor Services have had a great deal of experience dealing with confined space tree removal jobs. Contact us on 0418 562 115 for a free quote now for clearing your trees.
Replacement trees, pruning and maintenance.
If a tree needs to be removed we can offer semi-advanced trees for replacement. In consultation with you, we can select the best species for your location and through our contacts in the nursery industry supply high quality, well structured semi-advanced trees.
We can plant, stake, and formatively prune your semi-advanced tree to ensure strong growth and fast establishment. Many defects in mature trees can be traced back to the time of planting. GVP's qualified staff and high-quality trees will ensure this is not the case for your tree.