Stump removal
Our stump grinders vary in size from 18 hp to 100 hp. They include small machines being ideal for tight access, to larger machines for volume stump jobs or very large individual stumps. The stump is ground as deeply as possible with the roots severed preventing regrowth, removing trip hazards and allowing for repainting or resurfacing.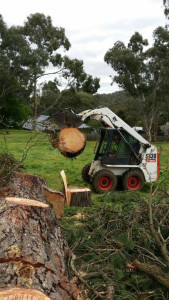 Storm damage cleanup and insurance work.
We offer prompt storm damage clear up of damaged or fallen trees for either private clients or insurance claims.   Contact Nick on 0418 562 115 for a free inspection and quote.
Other Services
We offer a range of services not just cutting bits off trees! These include:
Tree cabling and dynamic bracing
Installation of possum guards
Habitat hollow creation
Bird, possum and bat boxes installed and maintained
Christmas lights installed
Pest and disease control
Specialist tree health treatment
Mulch and firewood sales
We also have a network of consulting arborists who can help you with assessments, reports and planning requirements for trees in construction sites.
Call 0418 562 115 now or contact us online here.